GOLF DOME LOYALTY CARD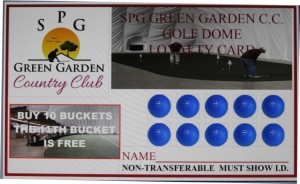 We appreciate your business and loyalty to SPG Green Garden Country Club and want to reward you for your patronage.  Please ask for a Golf Dome Loyalty Card at the front desk when you purchase your hourly bay.
Our staff will punch your card each time you purchase an hourly bay.  Once you have 10 punches, you earn a free hour at one of our bays.