2020 

Fall/Winter Middle School Player's Academy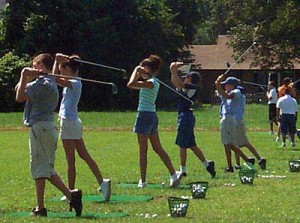 The Player's Academy is a club-like instructional program for enrolled golfers.  All students in the academy are enrolled in both small group & individual instruction.  Small group instruction is limited to 8 students.  One 30-minute lesson is included in our pricing each month, with options to add additional lessons at a reduced cost.  Summer tournament information is provided to all academy families.  Only Academy golfers are eligible to play in our June/July summer league. Reduced price lessons are available for family members of academy students while enrolled.
Golfers entering grades 5-7 in the fall
Curriculum designed to develop skills of students
Registration approval necessary.  Required 15-minute skill assessment prior to registration ($25) determines eligibility for class  (If assessment determines golfer is not eligible for the academy, guidance will be given to explain what is necessary before enrolling)
4.5 hours of instruction/month (4, 1-hr group sessions & one 30-minute individual lesson)
Monthly individual lesson works in coordination with group sessions and does not carry forward month to month
Additional golf ball purchase required for all classes/lessons
Classes offered 12 months/year
Current Schedule

Tuesday 6:30-7:30 p.m. (moving to 5:30 in September)

Fall/Winter Schedule

Tuesday 5:30-6:30   Closed – at capacity
Thursday 6:30-7:30
Registration opens for current families on Monday, September 21.  New student registration begins on Monday, October 5.
For registration, pricing, availability or to set up a skill evaluation, please  contact us at                                             815-806-7611 or spg.golfacademy@gmail.com.