Middle School Academy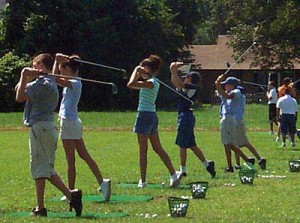 The Middle School Academy (MSA) is a small, club-like instructional program for enrolled golfers that operates 12 months/year.  MSA curriculum is for experienced golfers – it is not a "learn to golf" class.  All students in the academy are enrolled in both small group & individual instruction.  Small groups meet for one-hour weekly, four times/month.  Group instruction is limited to 8 students per class.  Additionally, one individual 30-minute lesson is included in the monthly fees.  
When our middle school academy reaches capacity.  We will maintain wait lists and contact the next person in line if/when a position becomes available.
Golfers entering grades 6-8
Curriculum designed to develop overall golf skills of students including, but not limited to:  routine, flighting the ball, speed training, short game, putting, competing, shot-making, mental game, rules, etiquette, on-course strategies, tournament schedule planning, etc.
Technology will be used in conjunction with individual lessons.
Summer tournament options and general information provided
All classes/lessons require additional golf ball purchase
15-minute evaluation to determine eligibility is required for all new students.  (Evaluation rates will apply.) If approved to join a class, golfers may join the wait list.  Academy programs are NOT for beginning golfers, instead designed for the developing golfer.  Prior experience/instruction required.
For information on pricing, availability, wait lists or to set up a lesson to determine MSA eligibility, please contact us at 815-806-7611 or spg.golfacademy@gmail.com.