Middle School Academy Programs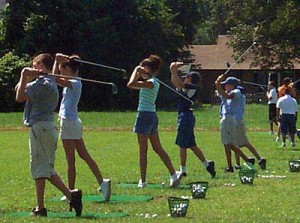 The Middle School Academy (MSA) is a small, club-like instructional program for enrolled golfers that operates 12 months/year.  All students in the academy are enrolled in both small group & individual instruction.  Small groups meet for one-hour weekly, four times/month.  Group instruction is limited to 8 students per class.  Additionally, one 30-minute lesson is included in the monthly fees. We offer 3 registration sessions, always offering priority registration to current and returning students – either individual or academy. 
Golfers entering grades 6-8 in the fall of 2021
Curriculum designed to develop overall golf skills of students including, but not limited to:  routine, flighting the ball, speed training, short game, putting, competing, shot-making, mental game, rules, etiquette, on-course strategies, tournament schedule planning, etc.
Technology will be used in conjunction with individual lessons.
Option to add additional lessons at a reduced cost
Summer tournament options and general information provided
Academy golfers are eligible to play in the June/July Middle school league on Thursday nights.  A competitive league held on the emerald golf course at Green Garden.  Prizes for individuals and theme winners.  Tee times begin @ 4:00.  All players must walk.  Provides the application phase of instructions.
All classes/lessons require additional golf ball purchase
reduced price lessons are available for family members of academy students while enrolled
Registration approval or skill assessment may be necessary.  Academy programs are NOT for beginning golfers, instead designed for the developing golfer.  Prior experience/instruction required.
Summer Academy Programs (May-July) Includes middle school academy and Thursday middle school league.  **All Summer Middle School Programs are closed & wait list only as of 4/1/21
Middle School Academy  – Tuesday 5-6
Middle School Academy – Wednesday 6-7
Middle School Summer League (open to students enrolled in an academy or individual lesson program ONLY)
Current student priority registration begins March 1
Returning student registration begins March 15
New student registration begins April 1
Fall Academy Programs (August – October) To be determined
Training Academy (November – April)  To be determined
Middle school academy options may change at any time.  All programs remain open until full.  Once classes are at capacity, we will start wait lists and notify golfers on the wait list if a position becomes available.
For more information, registration, pricing, availability or to set up a skill evaluation, please  contact us at 815-806-7611 or spg.golfacademy@gmail.com.